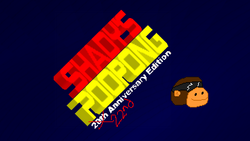 Shady's Poopong: 22nd Anniversary Edition is an OUYA-exclusive installment of the Shady's Poopong series. It is a parody of "anniversary editions" in general, and specifically, the series' own previous Anniversary Edition. It was released on December 21st, 2015.
Shady's Poopong: 22nd Anniversary Edition uses assets from the 20th Anniversary Edition, and contains new voice acting from Steven W. Hunt as Shady, and Michael McConnohie as the announcer.
External Links
Ad blocker interference detected!
Wikia is a free-to-use site that makes money from advertising. We have a modified experience for viewers using ad blockers

Wikia is not accessible if you've made further modifications. Remove the custom ad blocker rule(s) and the page will load as expected.