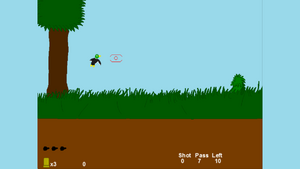 President Roosevelt is an arcade-style hunting game by CC & SH. Players take control of Theodore Roosevelt and make the the effort to shoot as many deer, ducks, and bears as they can. Players are unable to fire upon infant bears.
Targets
Players can choose from three different targets to hunt:
Duck: A sort of arcade-hunting experience, with one, and then later, two ducks appearing on the screen at one time.
Deer: A strategic hunting experience; players are urged to track deer and use tools such as antlers and calls to attract their target.
Bear: An action-hunting experience. The bears fight back against Roosevelt, but if they get too close, he can punch them to death.
External Links