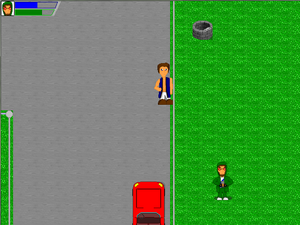 Chousenshi Densetsu: Dynastie Rising is a PC game by CC & SH. Development started in 2006, but stalled. An early beta is available, but the full game has yet to be completed.
Story
Artue, a young Utah native, is kidnapped by the mysterious leader of the crime syndicate, Dynastie. Using astral projection techniques that she had been learning, she manages to find her friend The S in Washington, recruiting him to rescue her corporeal form.
Along the way, they meet up with C-Dogg and Ace, and the four of them learn Dynastie's true intentions.
Playable Characters
Non-Playable Characters
Bosses
Cameos
Ad blocker interference detected!
Wikia is a free-to-use site that makes money from advertising. We have a modified experience for viewers using ad blockers

Wikia is not accessible if you've made further modifications. Remove the custom ad blocker rule(s) and the page will load as expected.