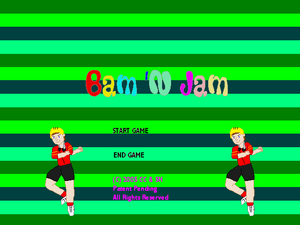 Bam 'n Jam is a music-based strategy puzzle game, released on August 22, 2005. The player clicks cyan, pink, and green squares that move rapidly and randomly across the screen, whilst doing their best to avoid the yellow squares, which deduct points. Game sessions are extremely short and fast-paced.
At the right side of the screen, Funky Jeff dances to the music.
The game re-released under the title "10 Cent Classics: Bam 'n Jam" on June 5, 2016, with a new title screen.